Beachplum Quilters of the Jersey Shore
Welcome to the website of Beachplum Quilters of the Jersey Shore. We hold our meetings on the third Friday of the month at 6:30PM from September to June. We meet at the Presbyterian Church of Toms River. Here you can learn about who we are and how diverse our guild is. Should you want to join our guild, you will also find information about when and where we meet. You are always welcome. Come visit us at a meeting to see our member's quilts and be inspired to sew your best quilt ever!
Dona Spencer
President
Kathleen Cox
Vice President
Goals of the Guild
Our Mission Statement
To educate, motivate, and create an atmosphere of sharing and friendship. To have active participation by all guild members on at least one committee. To strive for the growth of all aspects of this guild.
Guild Information
Beachplum Quilters of the Jersey Shore, Inc.
Island Heights, NJ 08732-0749
Beachplum Quilters Guild of the Jersey Shore was formed in 1985, to encourage, support and promote the art of quilting, through education and motivation in an atmosphere of sharing and friendship. Our members represent all ages and levels of quilting experience; advanced as well as beginning quilters. Annual membership dues are
$30
(September - June). The guild meets on the third Friday of every month at
1070 Hooper Avenue in Toms River, 08753 at the Presbyterian Church on the corner of Hooper and Chestnut Street.
The guild newsletter,

The Beachplum Sampler
is published monthly September through June, and provides guild news, pictures, programs, as well as notices of shows, exhibitions and guild-sponsored special events.
Our guild currently has a quilt show every other year (even years) at the Toms River Elks Lodge #1875. This is the guild's major fund raiser. We also have a raffle quilt which is part of the show to generate additional funds.
Beachplum Quilters is a guild member of :
MAQGNet (Middle Atlantic Quilt Guild Network)
Our monthly meetings include the various works in progress or completed quilts by the guild members.
There is a Block of the Month committee. They provide color and pattern for this activity. At the end of the year, completed quilt tops are displayed and voted upon.
We continue to make quilts for charities. Our charity volunteers can meet at
:
Crafty Fabrics
750 Mantoloking Road, Brick, N. J, 08723
Recipients of the charity quilts have been nursing homes, Hospice families, veterans, a women's shelter, and hundreds of at-risk babies and children. 2013 was the year we made 125 bed size quilts which were donated to local families/victims of Hurricane Sandy (10/29/12). In 2017, we made quilts for children and families affected by Hurricanes Harvey and Irma, as well as for Oceans of Love, our local Ocean County charity for children. We will send more charity quilts to House of Hope, another local organization helping homeless families.
2020-2021 We made surgical masks for our local CMC Hospital Staff as well as Placemats donated to Meals on Wheels, over 120 so far.
We have our work cut out for us!
This is usually a queen size quilt, handmade by Guild members. This year we have 2 Raffle quilts ready for the Quilt Show in 2022. Various techniques are used, including hand applique work. All members are asked to sell and/or buy raffle tickets.
After you sign in at each meeting, as a member, you are given a ticket for a door prize drawing that night.
Records of the guild are kept by the Historian. The records consist of past newsletters, directories, photo albums, and publicity of the guild such as newspaper clippings and flyers. The By-Laws found on a separate page on this site describe the duties of the historian. Much of our recent history is on this Website in the form of archived newsletters and photos.
The guild schedules lectures & workshops during the course of the year. Professional quilt artists offer their expertise on appliqué, paper piecing, mixed media, or whatever the guild may be interested in accomplishing. We look for nationally known lecturers to speak at our meetings and events.
Please leave your Name and Email or Phone information and someone will get back to you as soon as possible. Thanks for your interest in our Guild.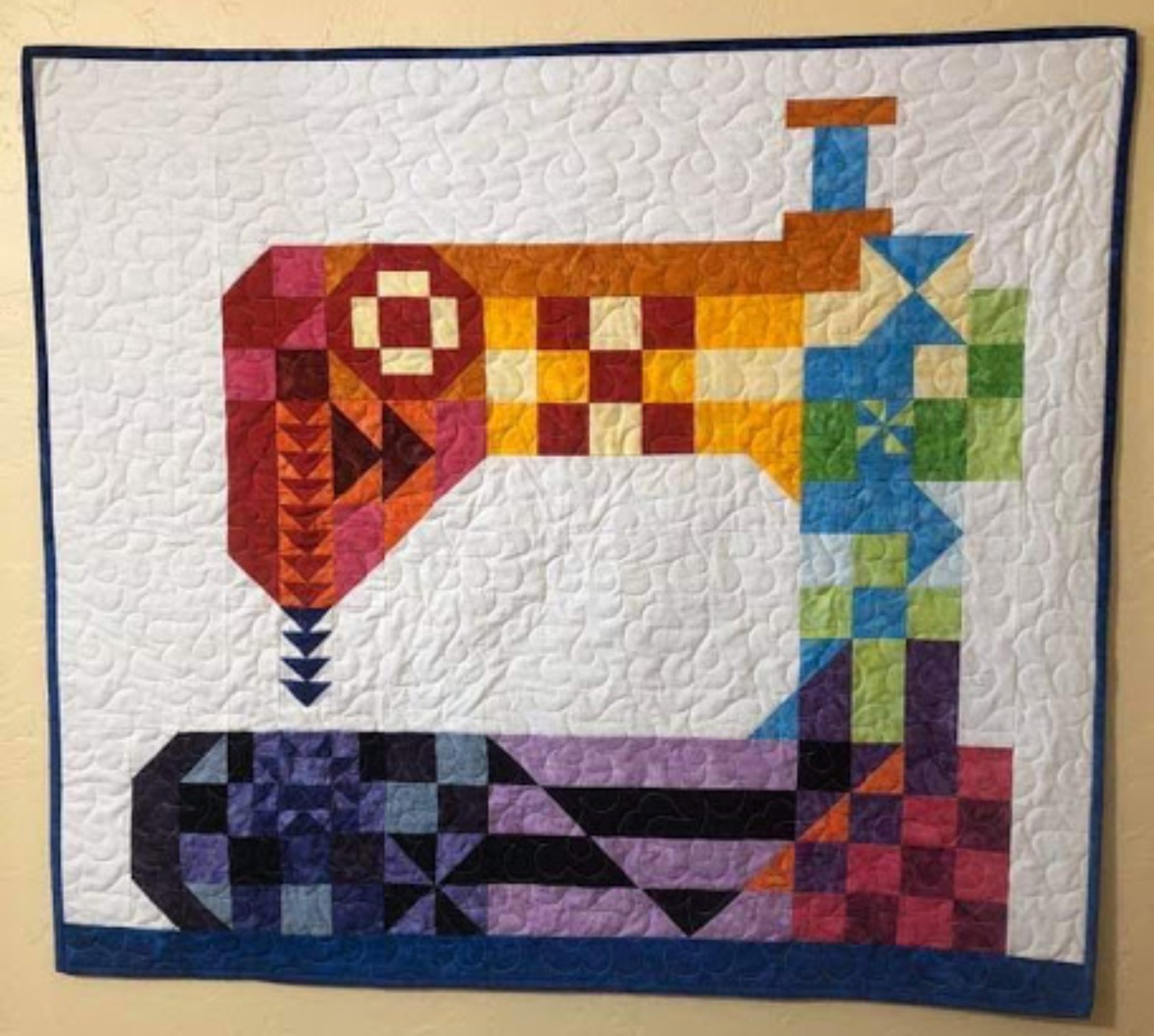 TID BITS
Free Quilting APP at the Apple iPhone Store: "Robert Kaufman Fabrics Quilting Calc" - excellent
GOOD NEWS! We will be returning to The Presbyterian Church of Toms River, 1070 Hooper Ave, Toms River, NJ: 6:30 PM. Door opens at 6 PM-"In Person"
Next Guild Meeting - Oct. 15, 2021 6:30 PM "In Person" at the church
Next Sit N Sew - Oct. 16, 2021 10 AM - 2 PM- on Zoom.us
Next Quilt Show Meeting - TBA: 6:30 PM - 8:00 PM on ZOOM.US
See rest of the Program Schedule under "Programs"
Sit N Sew - 2/13/21
While Sewing, we got to chatting about Favorite Tools, Blogs, Etc
Favorite Iron: Reliable Velocity Auto Control

Use Feed Corn in microwaveable heat pads for your shoulder/neck- it holds up better than rice-- Get it at Farm/Tractor Supply

Grippy Spray for Rulers
60 MM Rotary Cutter for 4 or more thicknesses of fabric
Stripology Ruler designed by Gudrun from Creative Designs Rulers
Gudrun - GEquiltdesigns.com
IKEA has some glass front bookshelves which seem ideal for fabric storage-Some have drawers
Featherweight Shop -YouTube.com on Featherweight Machine-www.Singer-Featherweight.com maintenance-get the kit from Idaho(?)-get the booklet, special bobbins, 1/4" foot, and horizontal spindle, new belt
You Want More?
Quilt & Tell Podcast (Marti Mitchel "History of the Rotary Cutter, 9/23/2020)

Quilting Daily Podcast

Use Spotify APP to access Podcasts

Bernina owners like the B-475 model featuring quilters favorites

Tula Pink Bernina -770 machine is funtastic!
3/13/21 - Sit N Sew:
Kristin Alfano

is backed up with quilts to be quilted. She started a new job. Be patient.
Spring brings a new challenge-

Emile Snyder

suggests deep cleaning your sewing space/closet. She made 4 placemats for the Meals On Wheels program.

Sherrie MacClellan

suggests organizing your stash by colors, and cutting yard goods into pre-cut sizes: 2-1/2", 5", 10" strips. Store fat quarters, 10" squares, and "leftovers" in separate bins or places.

Sherrie also mentioned going to "BellWorks" in Holmdel every Wednesday, 11AM - 4PM, for indoor craft vendors- Facebook..com/BellWorksFreshMarket.

Quilt Labels:

Emile Snyder

uses freezer paper to anchor the fabric before writing out her labels. She hand stitches the label on the back corner

Jeannette Middlekauf

buys $5 bags of used shirts at a garage sale and "Debones" them by taking off buttons, sleeves, seams to get yardage to make new scrappy quilts.

Pat Toth

loves Sit N Sew "because it forces me to do something and its nice being together". Laurie loves it because it is always inspirational, informative, & fun.

Sherrie MacClellan

mentions GEDesigns.com again- 1st Virtual Retreat was started this past week. She got a kit & pattern. Stripology Rulers and 60 MM Rotary Cutters are a must. Gudrun Erla, Quilt Artist, runs the show on TU & FRI Live on Facebook and/or YouTube.

Marlene Stoever

makes tabs for hanging a small wall quilt: (4) 5" x 3-1/2" pieces are folded in half, hand sewn, and strategically placed, on the top back of the quilt.

Bonnie Hunter - Quiltville.com

: free pattern, "Scrappy Mountain Majesty" is very pretty. Pat Toth is making a Bonnie Hunter square with lots of green scraps, sewn together.

Barbara Exposito

finished her Dinosaur Quilt- so Cute. Also she made a "Giraffe in a Teacup" 6" x 9" mug rug with green fabrics. It was paper pieced and fused applique.

Marcia Guza

is busy not only sewing, but working professionally doing TAX Returns.

Recipes:

Brisket, dry rub, 250 degrees overnight in the oven - Delicious or Crock Pot brisket, onions, pickling salt & spice mix rub, 1 can Guinness or Yeungling beer, on low, all day. Stromboli - Rolled out refrigerator dough, with cooked meat, rice, and veggie saute, then folded over and baked in hot oven till done.

Respectfully submitted by Laurie Schnitzer from S.C. - please send corrections to her. But please don't.
TID BITS: 4/10/21 -Making Placemats for Meals on Wheels:
Pattern appears in Free Patterns Section or at the website below:
www.allpeoplequilt.com/quilt-patterns/table-runners/quilt-as-you-go-place-mat-pattern


Dina N. - Uses a black wrought iron, Wall Hanger with safety pinned strips of 2-1/2" pieces of fabric. She can hang it in the closet or pull it out to choose strips for the next project

There is a

"Placemats Box"

at Crafty Fabrics - inside the box by Tuesday, 4/13/21, will be the printed labels to use on the back of the placemat. Pick up labels for this placemat or your next. LABEL SHOULD BE PRINTED AS: "BEACHPLUM QUILT GUILD 2021" Attach it by sewing with a machine or by hand....

Susie's Magic Binding

was described -Search

YouTube.com

for this nifty technique - It is machine sewn - and has the look of faux piping on the front.

Dina N. -

Dina's Crock Pot Chicken Fajitas Recipe

- Ingredients: diced onion, diced peppers, chicken breasts, 1 to 1-1/2 pounds, 1 Fajita or Taco seasoning packet, broccoli florets, 1-14 oz. can diced tomatoes, soy sauce, Cook these ingredients in a buttered crock pot, all day. Shred the chicken, mix it back into the pot. Scoop out onto flour tortilla wraps - add shredded cheese such as mozzarella, then fold or roll it up. Good as a leftover too.

Eight of us shared some good stories about ancestry, sailing, & families. Join us next time!
Thank You Everyone for helping us at our yard sales this year!
Yard Sale sponsored by Ann B. - Bayville, NJ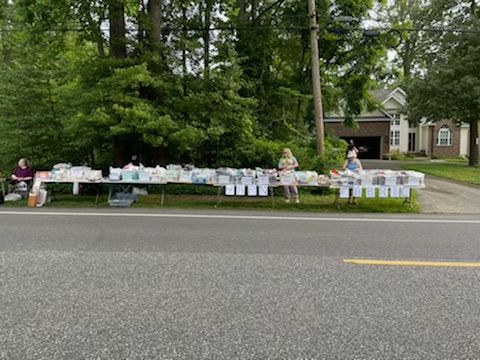 Yard Sale in Island Heights, NJ Mary P. & husband sponsored Beachplum
Quilters Guild. We sold Yarn, fabric, patterns, and met the nice people of Mary's neighborhood.
Friends from way back. We were Girl Scout leaders once, long ago...Great to see you again!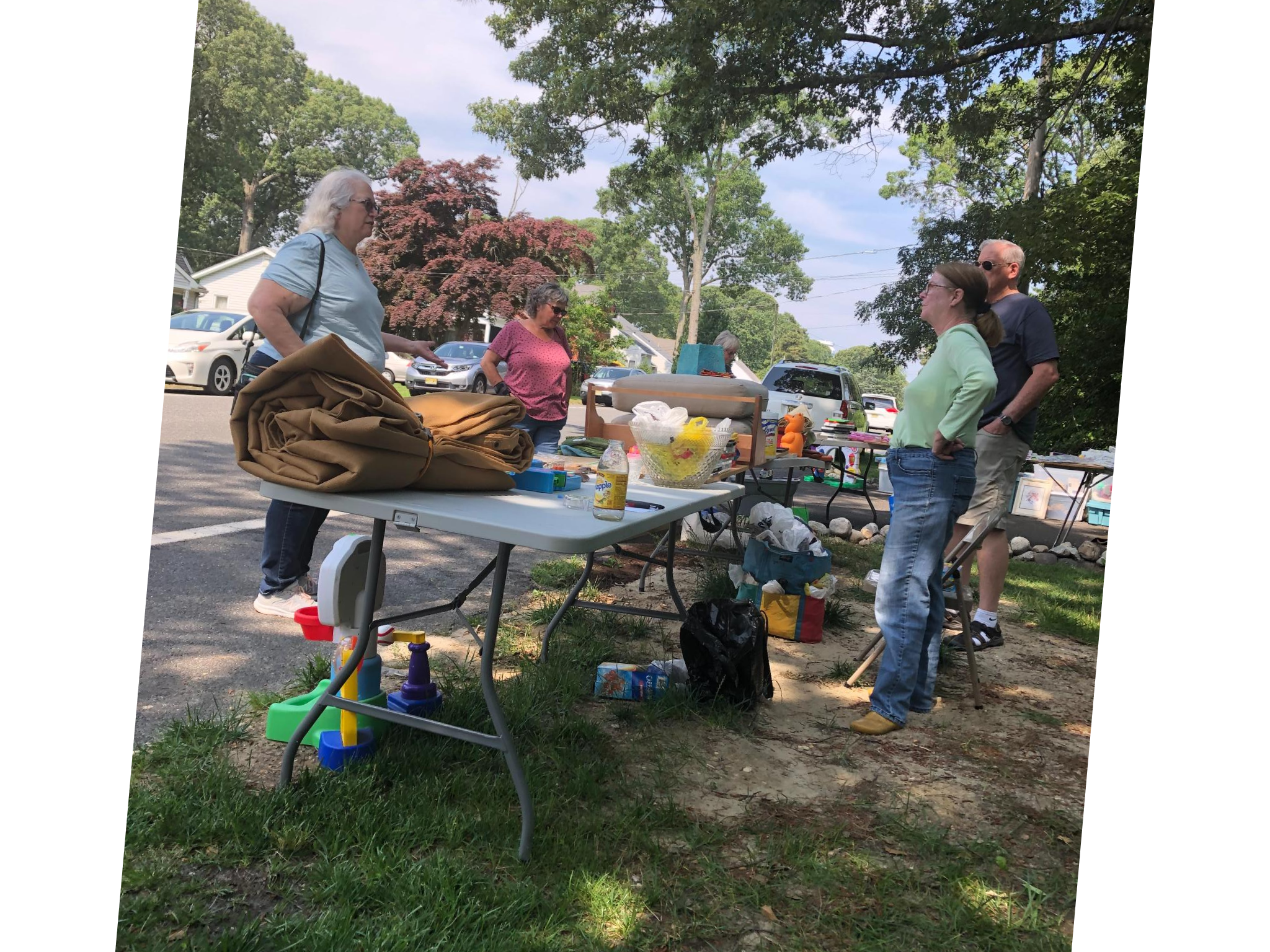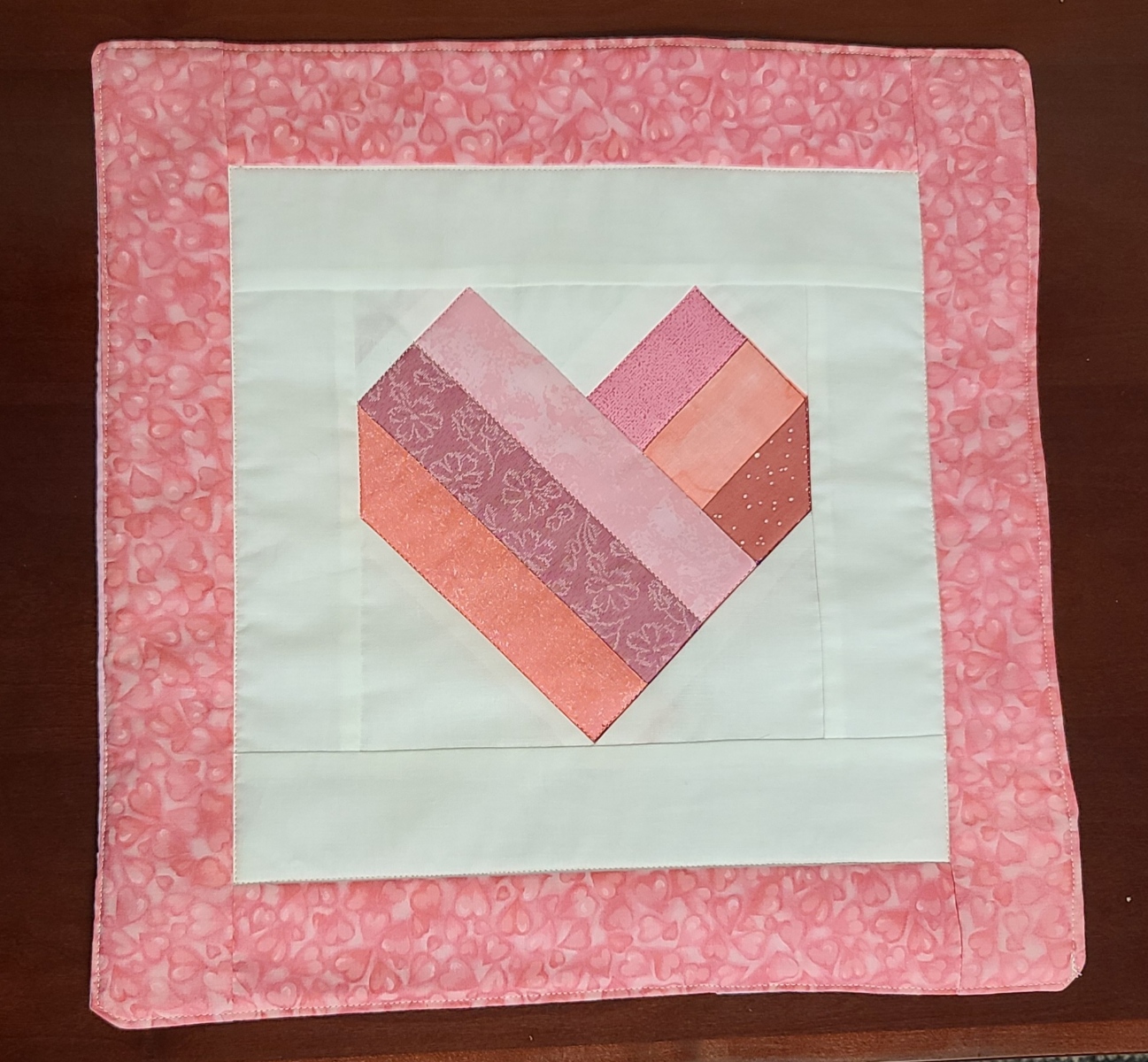 Orphan Block found at Ann's sale was finished by Laurie S. and it was
Gifted to Allied Wealth Partners office.
This dress is one of 750 dresses made by a group in our area that we donated fabric to. It is an example of how smaller pieces are combined to create a dress that will be treasured by the recipient.
Nancy Muldowney and her granddaughter helped to create several dresses.
Friends at the 2021 Beachplum Festival
Quilt Show 2022 "Quilts in Full Bloom"
The 2022 Quilt Show is Scheduled for April 2-3, 2022 at The Toms River Elks Lodge
Saturday, April 2nd: 10 AM - 5 PM
Sunday, April 3rd: 11 AM - 4 PM
Wed. March 30th: Registration & Intake of Show Quilts 10 AM - ?
Thur. March 31st: Judging by Professional Judge
Fri. April 1st: Set-Up Pipes & Drapes, Vendors, Country Store, Registration, Hang Quilts, ETC.
Sat. April 2nd: Members working the Show: doors open to members around 8:30 AM
Quilt Show Volunteer Committees:
Ambiance, Appraisals, Baskets, Challenge Quilts, Country Store,
Demos, Door Prizes, Judging & Scribes, Members Booth, Mini Quilt Auction,
Publicity, Raffle Quilt Ticket Sales, Registration Intake & Return, Set-Up and Take Down,
Story Cards, Vendors, Welcome Admissions, White Gloves
Volunteers are welcome, especially at set-up times and at the end of the show....
More decisions are still to come. We are meeting with the quilt show committee chairpersons. Please email us if you have specific concerns that need consideration.

NEXT QUILT SHOW MEETING: TUESDAY, OCTOBER 5TH, 2021 6:30 PM - 8:00 PM ON ZOOM.US
Kathleen Cox, Quilt Show Chair EMAIL - kecox3@aol.com
2 Raffle Quilts are ready for the 2022 Show!
Tickets $1.00 each Books of 10 available for $10 each
Books available at our meetings or by contacting us at:
E-Mail: beachplumquiltmakers@gmail.com
The Queen Size quilt is on the left & the Lap size quilt is on the right:

Pat L.'s quilt was at the September 2021 meeting: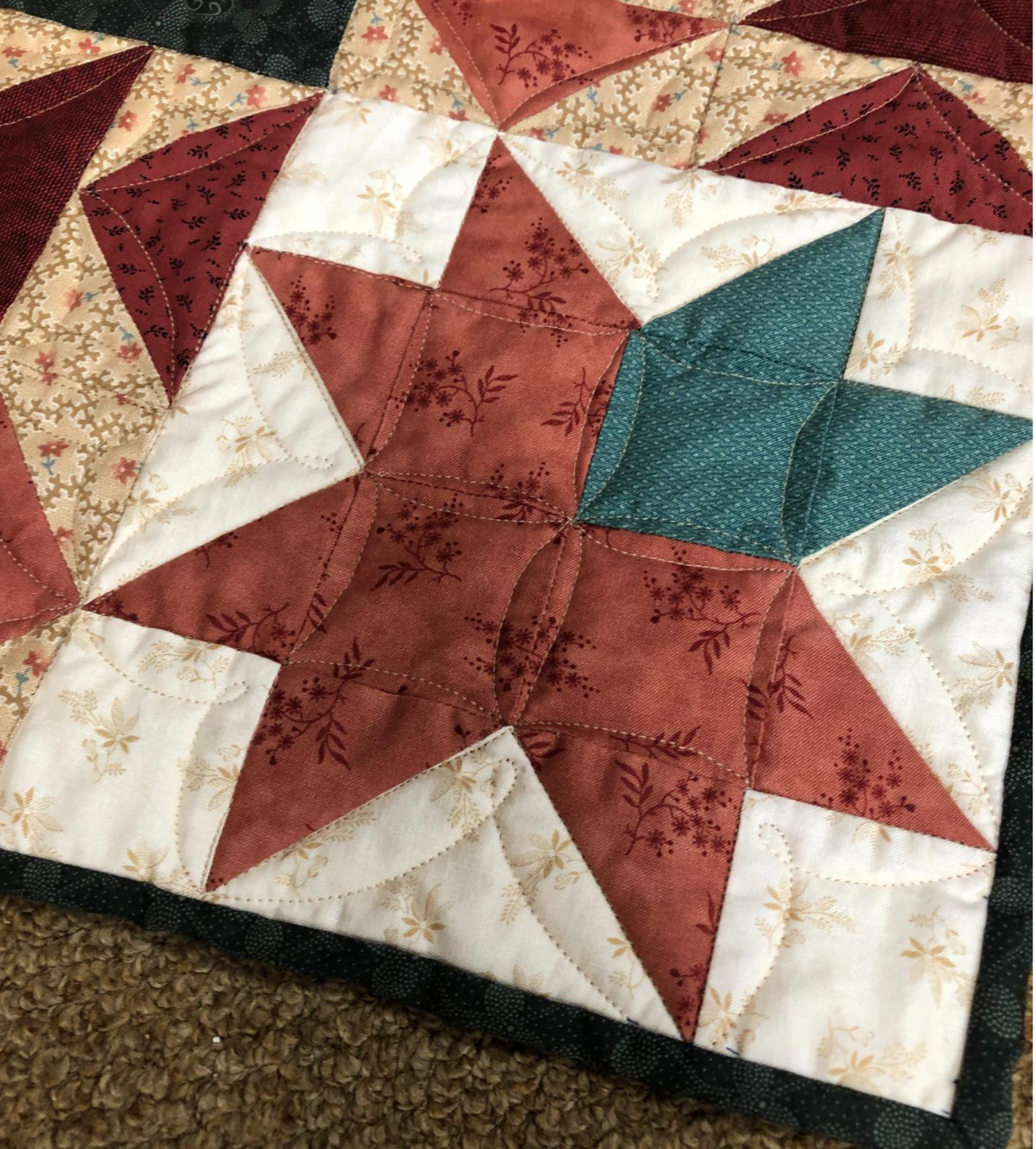 Quilt Appraisals By Karen Dever
Is Grandma's quilt really priceless? Or now that you have a winner's ribbon from the local quilt show, should you be concerned that someone might want to steal your quilt? Would you want your quilts replaced if something does happen to them? Perhaps it is time to consult a certified appraiser of quilted textiles!
Learning what a quilted textile is worth for insurance purposes or market value does not happen in the same manner as it does on a certain popular television show. Getting a quilted textile appraised requires an examination of the item on the spot,and perhaps follow-up research. If you have ever wondered how much you should insure Granny's quilt for or what the replacement cost would be of your recent masterpiece, contact Ms. Dever to learn more about your quilted item.
Karen Dever, a certified appraiser with AQS (American Quilt Society) and a member of the Professional Association of Appraisers - Quilted Textiles (PAAQT), will be able to appraise quilts, to answer questions about quilt valuation, to give advice on quilt care, and to admire the hard work of quilters known and unknown.
Appraisals can be completed on new and old quilts, both traditional and non-traditional, and quilted garments.
To book an appointment, contact her e-mail. She will be taking appointments for our next show. Book her early because she usually is busy.
September Meeting Show N Tell: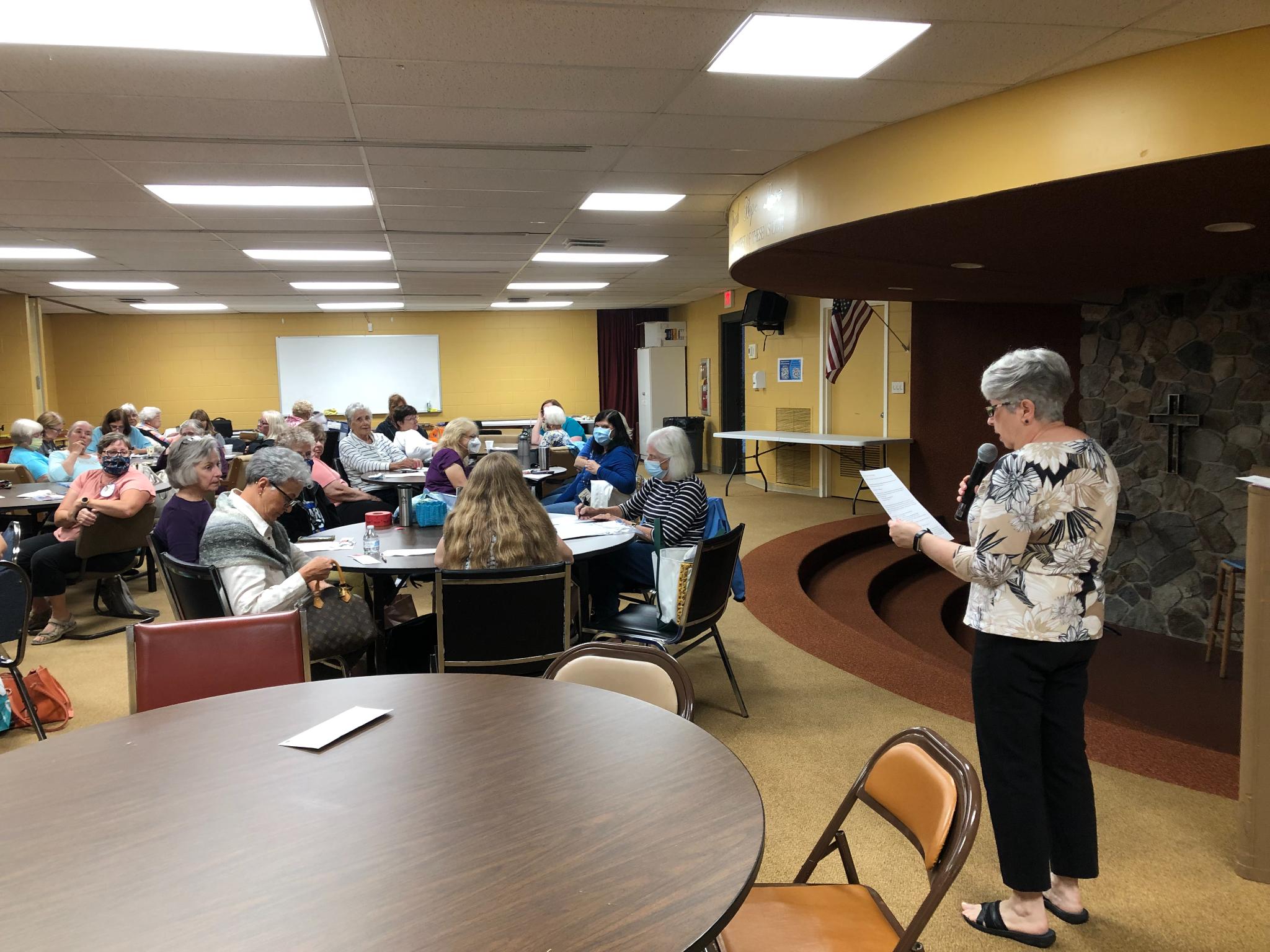 Preparing Your Quilt For A Long Arm Quilter
By Tammie Ruffle, 1601 Timber Run, Nashville, TN 37214, (908) 421-1435
All seams are stitched securely-especially the outside perimeter. When the quilt is loaded on the rollers of the long-arm, the fabric is stretched taut. If you have not backstitched those outside seams, they may pull apart. (Stay stitching around quilt 1/8" is a viable option)
Remove any selvages before piecing your back - they do not stretch and can cause puckers and may not lay flat.
Square your quilt top, but more importantly, square the back. If you piece the back, make sure it is trimmed square.
Please press your seams, (front and back). Press them as flat as you can.
For flat borders, measure your quilt center, and on the 2 outside edges where the borders will attach. Take an average of the three and that is the border length. This applies to both directions.
Trim all your loose threads. You aren't going to like seeing dark thread tails behind your lighter color fabric.
Backing and batting must be 6-8" longer and 6-8" wider than the quilt top. Quilters need that much extra to ensure that our grips to the sides of the quilts will distribute the tension evenly. The grips will get in the way of the machine if there is not enough extra fabric for the back. This can cause "wobbles" in the quilting if there is not enough back fabric.
If you have pre-washed your fabric for the quilt top, you should pre-wash your fabric for the back to avoid any uneven shrinkage.
Bring each layer( top, batting, backing) separately, (do not baste them together).
If you have a directional quilt or back, please place a safety pin at the top if you have a preference.
Press your back.
Please embellish your quilt AFTER it has been quilted.
What To Consider Before the Consultation
Your Budget. High end custom will cost you much more than an edge to edge design.
Possible designs you might like ( you will get some suggestions from the long-arm quilter)
Thread color - do you like contrast or do you like the thread to blend in?
2013 Beachplum Quilters of the Jersey Shore www.beachplumquilters.org
Normally published 10 months each year, September through June,
but suspended until we return to in-person meetings.

However, Zoom Meeting Minutes and BoM photos are published below.
E-mail newsworthy articles to the Editor, Marcia Guza,
marcia_guza@yahoo.com
If you have trouble viewing our newsletters, try to download the latest Adobe Reader version from the free site:
Adobe.com
Join Beachplum Quilters of the Jersey Shore! For annual dues of $30, you will receive a year's worth of
information-packed meetings, breathtaking Show & Tells, the monthly newsletter, and of course, exciting speakers. Need more incentive to join? BQJS members receive discounts at local quilt shops!


Return this form
with a $30 check payable to "Beachplum Quilters"
Mail your check and form to:
Jackie Pearce, P.O. Box 474, Allenwood, NJ 08720
Our guild needs collaboration and support to maintain an enjoyable atmosphere at our meetings and upcoming events. We can continue to provide this with the participation of everyone. Please indicate the committees that interest you below and chairpersons will check with you before scheduling you for any upcoming events.
Luncheon Committee or Bus Trip
Website

2020-21 Chairs:
Marcia G. and Dixie M.
Instructions and patterns. Feedback appreciated.
We can update files with corrections, as needed.
732-920-6220
Charity Quilts
Sit N Sew Schedule:
Sat,Feb 13, 2021 Zoom Meeting
Sat, Mar 13, 2021 Zoom Meeting
Sat, Apr 10, 2021 Zoom Meeting
Sat, May 8, 2021 Zoom
Sat, Jun 12, 2021 Zoom
Sat, Jul 10, 2021 Zoom
Sat, August 14, 2021 Zoom
Sat, Sept 18, 2021 Zoom
Sat, Oct 16, 2021 Zoom
Sat. Mar 19, 2022 Zoom
See

Programs Section

for

LINK

to Zoom Platform
Sew Charity Quilts with us in your own sewing room!
Quilts for Kids Charitable Organization

494 Lincoln Highway, Fairless Hills, PA 19030
1-215-295-5484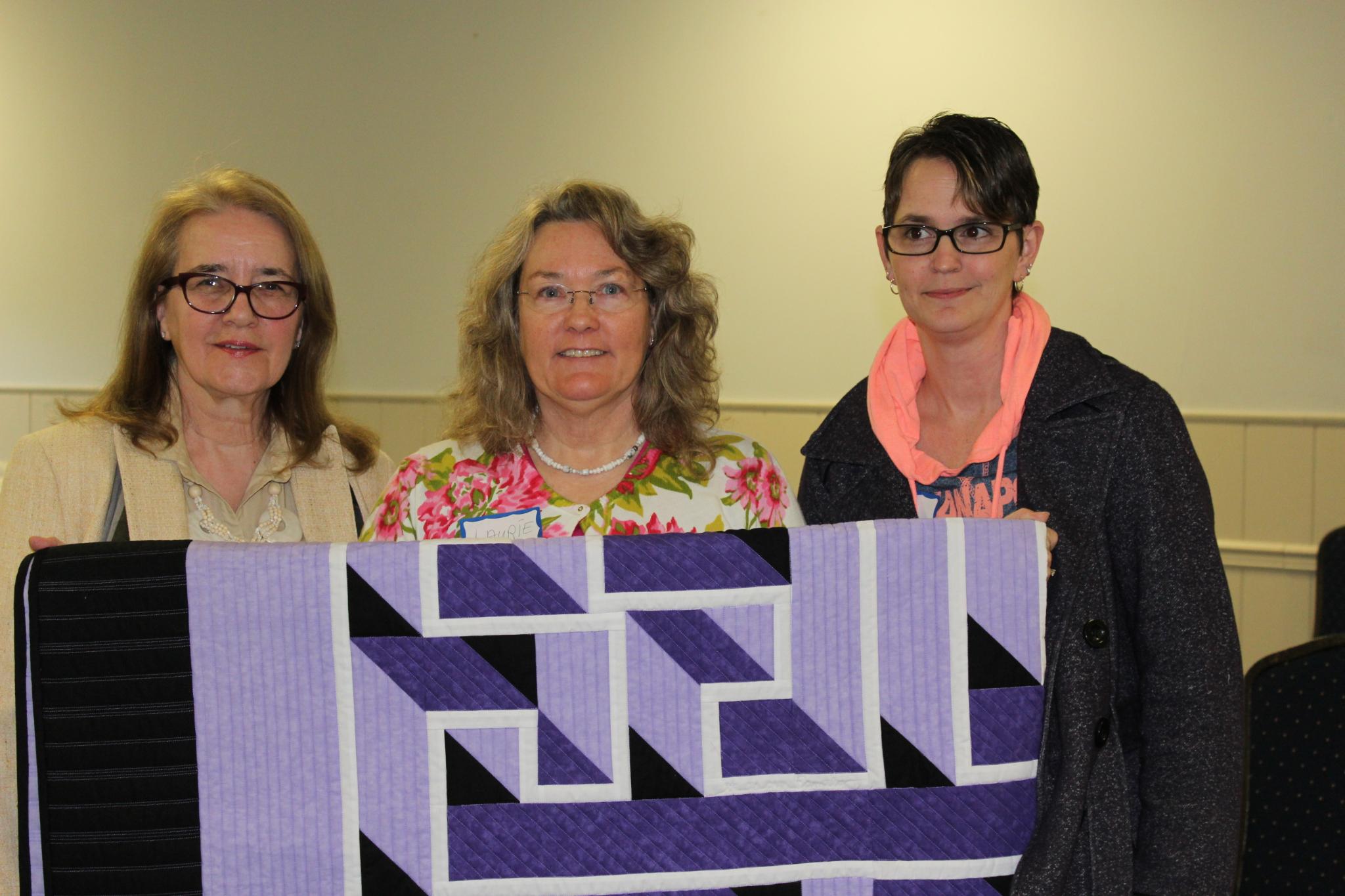 Sherri displays her blocks at our last in person workshop 2/22/20 with Debbie Kalenty, www.quiltersobsession.com Galaxy Quilt Pattern
WE ARE BACK at The Presbyterian Church for our Regular Meetings- Starts this September, 2021
Info: Laurie S. 732-691-3391 (Text or Voicemail)
Underlined Dates denote a Guild Meeting

Meeting Dates: 3rd Friday of the month/ Door
Opens at 6 PM
Sept 17, 2021

- Reg MTG- at The Presbyterian Church of Toms River, Hooper Ave.
9/18/21 - Sit N Sew Charity Quilts 10 AM- Zoom.us
10/15/21

- "The Artistry of Cory Moran" Trunk Show by Dona S.
10/16/21 - Sit N Sew for Charity Quilts - 10 AM- Zoom.us
11/19/21

- Sherre MacClellan Lecture-A Perspective...Long Arm, Borders, & Squaring Up your Quilt & Backing
12/17/21

- Dina Newbert Lecture- "I Spy with My Quilt Judge's Eye..."
1/21/22

- "Strip" Quilto- Bring in 5- 2-1/2" strips to play 5 games. Bring pennies or buttons for the card.
3/18/22

- Review of Quilt Show Preparations, Vote for Best Challenge piece
3/19/22 - Sit N Sew for Charity Quilts 10 AM- Zoom.us
3/30/22 - REGISTRATION & TAKE-IN of Show Quilts
3/31/22 - JUDGING 8:30 AM - 6 pm
4/1/22 - SHOW SET-UP 8:30 AM - 6 pm, Show Program assembly-Volunteers needed to staple
SAT 4/2/22

- QUILT SHOW opens to the public at 10 AM - 5 PM
SUN 4/3/22

- SHOW opens 11 AM - 4 PM TAKE DOWN- 5 PM & RAFFLE QUILT TICKET Drawing
6/17/22

-Big Finale - Member Photo outdoors

2020:

Sept 18, 2020 - Big Show N Tell -Zoom MTG

Oct 16 - Jody Beck Lecture: "The Art of Quilt Design"

https://www.jodysjemsquilting.com
Oct17 - Jody's Workshop: Cancelled
Nov 20 - Reg Zoom MTG
Nov 21 - Sit N Sew for Charity Quilts-ZOOM Meeting
Dec 18 - Brita Nelson Lecture: "Now You See It, Now You Don't, The Magic of Disappearing Blocks"
https://www.questioningquilter.com
Dec 19 - Zoom WORKSHOP - Brita Nelson - "Making Magic, A Disappearing Block Sampler Quilt, 39" x 39"
2021:
Jan 9 - Sit N Sew for Charity Quilts, Zoom at Home
Jan 15 - Zoom MTG

Feb 13 - Sit N Sew Zoom at Home - 10 AM
Feb 19 - Zoom MTG
Mar 13 - Sit N Sew Zoom at Home - 10 AM
Mar 19 - Zoom MTG
Mar 20 - Debbie Kalenty Zoom Workshop -Hunter's Star Quilt-"Masquerade" pattern 10 AM
Apr 10 - Zoom Sit N Sew 9:00AM - 3:00PM-Placemats
Apr 16 - Zoom MTG-Placemats for Charity
May 21 - Zoom MTG
Jun 18 - Zoom MTG
July 2 - ZOOM Quilt Show Meeting w/ K. Cox
July 10, 2021 - Sit N Sew ZOOM 10 AM- 3 PM
July 16 - Zoom "Gathering" 6:30 PM
Aug 13 - Zoom "Gathering" 6:30 PM
Aug 14 - Sit N Sew ZOOM 10 AM- 3 PM
Sept 17 - Big SHOW N TELL Guild Regular Meeting at The Presbyterian Church of Toms River
Surgical Mask Pattern
"Making Masks, because we can"
New Post on Piece O Cake Blog
By Becky Goldsmith
https://www.pieceocake.com
(https://www.instructables.com/id/DIY-Cloth-Face-Mask/)
Jenny Doan at Missouri Star Quilt Company: https://www.missouriquiltco.com
"How to make face masks"
Laurie VS made the mask in 1 afternoon. This is NOT a substitute for an N-95 mask.
Food Bank Donations* are accepted at each Meeting.
Please be generous. Bag your donation securely.
We always accept feminine hygiene products.
*Due to COVID-19 please donate to: FULFILL
3300 Route 66, Neptune, NJ 07753
732-918-2600
AQS QUILT WEEK
The Quilt & Sewing Fest of New Jersey
Mid Atlantic Quilt Guild Network
The goal of MAQGNet is to unify guilds with diverse interests by sharing information on resources (lectures, workshop teachers, appraisers and judges); providing information that is pertinent to quilt guilds; discussing and finding solutions to guild related issues; and promoting a positive atmosphere in which quilting can flourish.


Like us and Share with all your families and friends so we can get exposure to many more people!
Maybe they will come to our show because they saw us on Facebook.
Many thanks to Sue B. for setting us up!
Jersey Shore Makerfest 6.0
Save the Date- ?
FREE ADMISSION
Toms River High School North @ the Arena
Contact: jsmakerfest@gmail.com
The National Quilt Museum
"Quilts For Quilting" Campaign
Send a new or antique quilt or miniature quilt
as a tax deductible donation
Fabric and Quilt Books are also requested
For the 3 Annual Auctions
Questions: 270-442-8856 ext 207
Send to: National Quilt Museum,
215 Jefferson St, Paducah, KY 42001
Please write "ATTN: Q For Q" on the box
Please include your name, address, and contact info to receive a receipt.
Last year over 650 individuals and over 30 guilds participated
to show support for the museum's efforts to promote
the word of today's quilters around the globe

"Quilters Newsletter has held a very special place in the hearts of quilting enthusiasts for 47 years, and has been a source of inspiration and learning for quilters around the world. However, the magazine will no longer be published after the October/November 2016 issue. (Quilters Newsletter subscribers will receive Quilting Arts magazine beginning with the December/January 2017 issue, or they may select another F + W quilt publication. Call 800-477-6089 for information.
While the print version of Quilters Newsletter is going away, free quilt patterns, historical content and other information will still be available online at quiltersnewsletter.org. And Quilters Newsletter digital patterns, eBooks, digital magazines and other quality products will continue to be available at quiltandsewshop.com.

Quilters Newsletter began publication in September 1969 and was founded by Bonnie and George Leman. It was the first - and for many years the only magazine devoted solely to the interests of quiltmakers. Bonnie composed the first issue on a manual typewriter at her kitchen table, and the day it was published was the same day she gave birth to the youngest of her seven children.

That day marked the beginning of an international phenomenon. Many quilt historians agree that Bonnie almost single-handedly launched a quilting revival around the time of the U.S. Bicentennial in 1976 by researching and publishing information about a domestic pastime that had fallen out of vogue since the end of the Great Depression and the onset of World War II. No one can deny that she shaped and guided that revival during subsequent decades.

Bonnie Leman and Quilters Newsletter will forever be linked to the history of quiltmaking in the U.S. and abroad. It's a legacy that will never be forgotten.

F + W, Quilters Newsletter's parent company, is committed to the quilt industry and will continue to serve the community by publishing magazines, creating videos, digital patterns, online education, books, in-person events, ecommerce products, and more under the brands of Fons & Porter, McCall's Quilting, Quiltmaker, Quilting Arts, Keepsake Quilting, and Original Sewing & Quilt Expo. We will continue to evolve in order to serve a community with ever-changing habits and media preferences."

"Happy quilting!
The QN Staff"

Reference: Quilters Newsletter, October/November 2016 Page 5.

T
his Activity is on hold. Use this sheet to keep track of your own UFO's.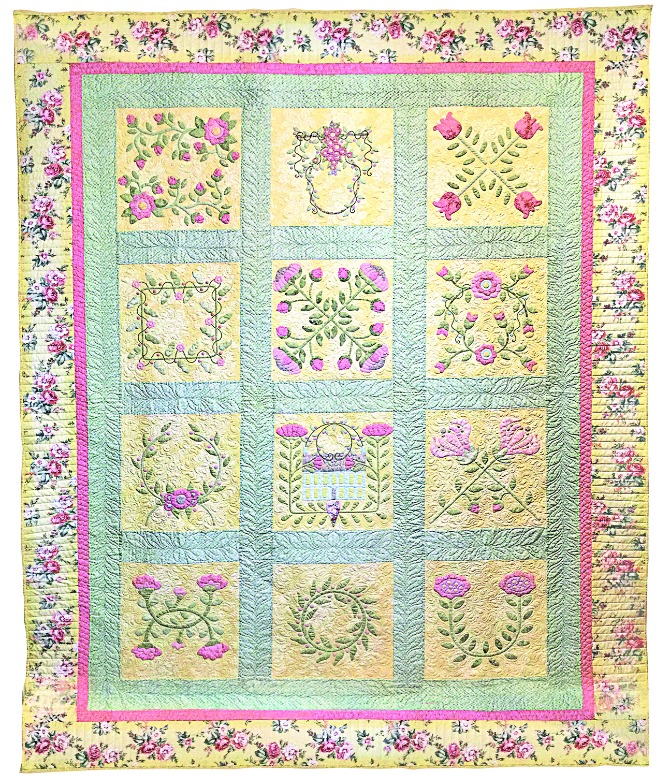 2020 Raffle Quilt
"Bespoke Blooms"
The Story of Our Quilt

Robin Pandolph designed the pattern called "Bespoke Blooms".On her travels to Southwest England in June 2008, she was inspired to create 12 blocks, each named after a little village in Somerset. A friend of our guild donated this kit of fabrics and the pattern to our guild member, Mary G, with the request that it be used for fund raising purposes for the guild. The following members did the applique work: Sue G, Rita R, Jackie P, Shirley M, Ellen H, and Joyce W.
The piecing was done by Janet P.
The binding was done by Jane S.
Longarm artistry: Kristin Alfano
New Palestine, IN
kalfano@mail.com

ON APRIL 19, 2020 THE WINNING TICKET WAS SELECTED. CONGRATULATIONS
MARY PABST!
Trunk Show - Janet P 2015
In 2015, Janet P., a long time member, brought her extensive collection of quilts to our meeting.



Her son videotaped the trunk show and it is presented here through a link to YouTube.com.
Click on the video or the link below.
https://www.youtube.com/watch?v=yUDwZm3f4jg

Free Patterns, Make 'N Take Its
Links
Join us on Facebook.com/BeachplumQuiltersGuild
Like us and Share with your family & friends
Annual Makerfest, Pine Belt Arena, H.S. North, Toms River, NJ 08753
2nd Saturday in October, 10 am - 4 pm
Social Media Site: groupworks.com/BeachplumQuilters
E-mail Spencer Morgan- spencerm@mygrove.com
Quiltmaker - www.quiltingdaily.com
Fons & Porter - Love of Quilting - www.fonsandporter.com
www.quilts.com International Quilt Market, Houston, TX - Karoline (Karey) Bresenhan, President/ Founder
www.thequiltshopnavigator.com or WRBQ, Inc. Directory of Quilt Shops, Quilds, and Events by Region
www.weallsew.com Bernina sewing machine website
www.maqgnet.com Mid Atlantic Quilt Guild Network
www.allpeoplequilt.com/millionpillowcases/freepatterns
www.allpeoplequilt.com/showmehowbaby
www.connectingthreads.com online quilt store in Vancouver, Washington
www.shabbyfabrics.com online quilt store in Idaho
www.gloriouscolor.com
www.keepsakequilting.com online quilt store in New Hampshire
www.mckimstudios.com Ruby Short McKim (1891-1976) Quilt Artist trained at Parson's School of Design, NYC
Author: One Hundred and One Patchwork Patterns, 1931
www.quiltingismytherapy.com Angela Waters
www.missouriquiltco.com online quilt store in Missouri
www.sewingexpo.com Original Sewing & Quilt Expo website
www.quiltersnewsletter.com digital edition of Quilters Newsletter magazine
www.quiltandsewshop.com Quilters Newsletter online quilt store
www.quiltsforkids.org free CHARITY QUILT PATTERNS for our guild

www.superiorthreads.com 1-800-499-1777 Thread company in Utah
www.quiltersselect.com Free Quilt Projects by Alex Anderson
www.ppquilts.com (People, Places, Quilts in Summerville, SC)
MACHINE MAINTENANCE:

Stony Brook Sew & Vac 191 Rt 130North, Bordentown, NJ 08505-Supplier of Quilters Select items 609-372-4018 Services: Brother, Singer, Viking, Janome, and most other machines
Stitch and Sew in Lakewood, NJ Ernie and Jane/ Maintenance of all brands of sewing machines
Mouse Creek Quilts in Howell, NJ Claire/ Maintenance of HandiQuilter machines
The Bernina Sewing Center in Matawan, NJ
Olde City Quilts in Burlington, NJ
Hinkletown Sewing Center, 1-(717)354-8961 232Wanner Rd, Ephrata, PA 17522
DESIGNERS:
Bonnie Hunter - www.quiltville.com
Gudrun Erla - GEDesigns.com
Reed Johnson - www.bluebearquilts.com
Charisma Holton - www.charismascorner.com
Abigail Dolinger - abyquilts.wordpress.com
Timeless Treasures - www.ttfabrics.com

Stephanie Cunnyngham - www.sissybellesews.com

Rachel Raburn - www.facebook.com/redbirdquilting

FreeSpirit Fabrics - www.freespiritfabrics.com

Patti Carey - www.pattispatchwork.com

Northcott - www.northcott.com

Gina Gempeshaw - www.gemhillquilts.com

P & B Textiles - www.pbtex.com/freepatterns

Scott Flanagan - www.facebook.com/4thandmaindesigns/

Island Batik - www.islandbatik.com

eQuilter.com - www.equilter.com

Bev Getschel - www.bevgetscheldesign.com

Deborah Richmond - www.quiltedturtle.com


LONG ARM ARTISTS:
Diane McColley, Owner, Crafty Fabrics, 750 Mantoloking Rd, Brick, NJ 08723, 732-920-6220
Marcia Guza, (Charity Quilts only), Crafty Fabrics, 750 Mantoloking Rd, Brick, NJ, marcia_guza@yahoo.com
Kristin Alfano, 4702 W. Grimshire Rd, New Palestine, IN 46163 317-902-2034 E-Mail: quixoticquilts@mail.com
Rosemary Banks, 609-267-3809, E-Mail: scrappyquilter17@aol.com
Sherre MacClellan, 732-766-0999, 91 Kings Way, Freehold, NJ 07728, sherremac3@hotmail.com
Claire Berg, Owner, www.MouseCreekQuilts.com, 732-294-7858

Local New Jersey, New York QUILT SHOPS:


www.craftyfabricsquilting.com Brick, NJ
www.fabricland.com Rt 22, N. Plainfield, NJ
www.joann.com/ Toms River, NJ
www.mousecreekquilts.com Howell, NJ
www.oldecityquilts.com Burlington, NJ
www.penningtonquilts.com Pennington, NJ
www.quiltingpossibilities.net Forked River, NJ- Online only
Stitch N' Sew Centre, Lakewood, NJ E-Mail: stitchnsewcentre@hotmail.com (732) 363-2220
www.thepincushionfabrics.net The Pin Cushion, 657 N Delsea Dr, Vineland, NJ 08360 (856) 692-5460
A Fabric Outlet & Gifts, 2644 North West Blvd, Vineland, NJ 08360 (856) 690-8633
www.cityquilter.com New York City, NY
www.bernina-nj.com - The Bernina Sewing Center - Matawan, NJ


VENDOR SITES:

www.electricquilt.com
www.hyerswood.com
www.laceyjhill.com
www.quiltersobsession.com Debbie Kalenty website- Deb Tucker Tools
www.studio180.com Deb Tucker Tools website
www.modabakeshop.com website
www.cvquiltworks.com Jackie Kunkel - Certified Judy Niemeyer Instructor
Kristie's Custom T-Shirt & Memory Quilts E-Mail: kam3608@comcast.net

GUILD WEBSITES:
www.annapolisquiltguild.org
www.baltimorequilters.com Baltimore Heritage Quilters Guild
www.beachplumquilters.org
www.berrybasketquilters.com
www.brownstonequilters.com
www.courthousequilters.org
www.loveapplequilters.com
www.rebeccasreel.org
www.mypigeonforge.com/events/quiltfest In Tennessee - A Mountain Quiltfest
www.quiltfest.com Mancuso Show Management
www.quiltweek.com AQS Quiltweek in Paducah, KY, Quilt City, USA
www.vqf.org Vermont Quilt Fest
www.shelburnemuseum.org Shelburne, VT
www.sewmuchmore.com A destination quilt shop- Savannah, GA
www.paulanadelstern.com/fabric/guides/index.php An insiders guide to the garment district's best shops for quilters to explore with restaurant suggestions while in N.Y.City
www.ppquilts.com People, Places, Quilts - Summerville, SC, a suburb of Charleston, SC
MODERN QUILTING SITES:

www.tallgrassprairiestudio.com Jacquie Gering
www.quiltyhabit.com Jessica Skultety
The following websites are directories for finding other quilters, guilds, or shops:
www.needletravel.com
www.thequiltshopnavigator.com
www.quilterstravelcompanion.com
www.countryregister.com
www.quiltguilds.com
www.wrbqinc.com Directory of quilting events, shops
MUSEUMS WITH QUILTS & TEXTILES:

The National Quilt Museum- www.quiltmuseum.org 1-(270) 442-8856Lancaster
Quilt and Textile Museum - www.quiltandtextilemuseum.com
Shelburne Museum - www.shelburnemuseum.org/
Morris Museum - 6 Normandy Heights Rd, Morristown, NJ - www.morrismuseum.org
The Red Mill Museum, Red Mill Museum Village, Clinton, NJ - www.theredmill.org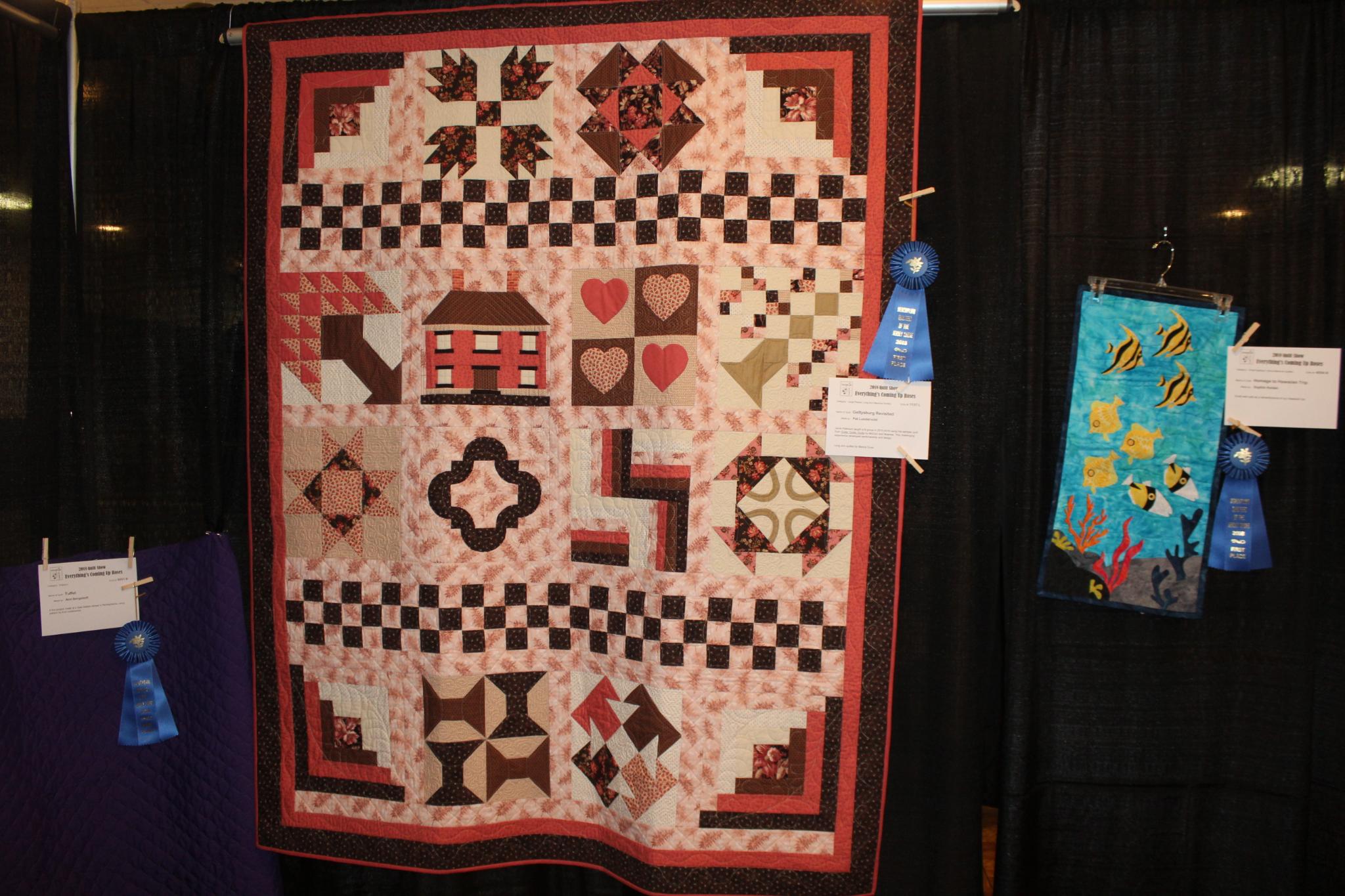 From time to time members request a recipe from a meeting. Although we can't put up unlimited numbers of recipes, take advantage of them when you see them
.
National Quilting Day is observed the third Saturday each March. Make a quilt and post it on social media site: #NationalQuiltingDay
This
This year, National Quilting Day was March 20, 2021
Next Year - March 19th, 2022




National Quilting Day is a special holiday, set aside to celebrate quilts and quiltmakers - past, present, and future.

The National Quilting Association, Inc. began sponsoring National Quilting Day with a resolution passed by members attending the 22nd Annual Quilt Show in Lincoln, Nebraska, in June 1991. The third Saturday in March is officially designated as National Quilting Day, but over the years, observance of National Quilting Day has unofficially been expanded to the whole month of March!

National Quilting Day gives us the opportunity to reflect with pride on the traditions of quiltmaking and the contributions quiltmakers have made to their families and communities for many generations.

A Brief History of National Quilting Day

In 1989, the Kentucky Heritage Quilt Society organized a "Quilter's Day Out" on the third Saturday of March to celebrate the rich tradition of quiltmaking in Kentucky. In 1991, the NQA officers were so enthused with the concept and success of "Quilters' Day Out that they voted to take it to a national level.

The first National Quilting Day was observed in 1992 and since then it has grown into a global celebration for all quiltmakers and quilt lovers. Helen Storbeck, one of the founders of National Quilting Day, wrote in The Quilting Quarterly, "Groups of quilters were encouraged to hold special events, publishers and shop owners were invited to sponsor promotions especially for quilters and it quickly became a grassroots endeavor with quilters in every part of the country participating. In the first year of National Quilting Day, quilters in other countries asked to participate. They were welcomed with open arms. As our feelings of a community network have evolved to include a world community, it is only appropriate that quilters and quilt lovers everywhere united to give recognition to the special art form."


The 2014 free Pattern supplied by The National Quilting Association is Stash Attack in the Archived Documents section.

This Article has been provided by the National Quilting Association


Guest Speakers and Teachers
The following guest speakers have presented lectures and /or workshops for our guild members.
We are grateful for their knowledge, expertise & guidance.
Linda Applegate-May 2018
Anna Faustino-2009 & 2017
Debbie Kalenty-2017, 2019, 2020,2021
Spencer Morgan - MyGrove.co- 2016
Tammie Ruffle
Connie Safran - member trunk show 2017
George & Virginia Siciliano
Jessica Skultety-2016

Gail Small
Linn Woodward
Vienno Wurret - Children's Specialized Hospital

The Guild puts together a biennial (taking place every other year) quilt show in the even years. Members display the quilts they have made since the last show. This is a major fund raiser for the guild's activities, including gifting hundreds of charity quilts over the years. These funds are also used for our programs and activities, including guest teachers and lecturers, workshops, etc. Our quilt shows give us the opportunity to have our work judged by a professional, with awards presented in a variety of categories. Money donated at our shows goes directly into keeping this cottage industry alive and well for many years to come.


"Quilts in Full Bloom Show & Sale" : April 18-19, 2020 was Cancelled DUE to the Corona Virus Pandemic. Thank you Kathleen Cox & Ellen Hyers, Chairs, who stressed over the decision to cancel...
NEXT SHOW: April 2 - 3, 2022 "Quilts in Full Bloom"
Kathleen Cox & Ellen Hyers, Chairs Email: kecox3@aol.com
Our Past Quilt Shows:
"Everything's Coming Up Roses" 2018 Quilt Show & Sale April 14-15, 2018
Kathleen Cox & Sue Balfe, Chairs
"Garden of My Dreams" 2016 Show & Sale April 9-10, 2016
Ellen W. Hyers & Shirley Moramarco, Chairs

"Birds of a Feather Quilt Together" April 5-6, 2014
Ellen W. Hyers & Shirley Moramarco, Chairs
"Quilting From the Heart"
- April 2012
Laurie V. Schnitzer, Chair
"Plum Crazy Over Quilting" - April 2010
Laurie V. Schnitzer, Chair
"Across The Generations"

- April 2008
"Grandmother's Flower Basket" - April 2006
Linda Casserly, Liz Henne & Connie Miller, Chairs
"Serendipity" - April 2004
"Old Fashioned Charm" - April 2002
Eileen Koeck Stacey & Linda DeBree, Ch
airs
"A Quilt Odyssey" - March 2000
Eileen Koeck Stacey & Pat Gardener, Chairs
"99 Years of Quilts, A 20th Century Retrospective" - March 1998
Cathleen Y. Applegate & Eileen Koeck Stacey, Chairs
"Quilting At The Jersey Shore" - June 1996
Beth O'Neil & Arlene Troiano, Chairs
"A Whirlwind of Quilts" - June 1994
Dee Burrows & Carrie Kiefer, Chairs
"Fall Festival of Quilts" - November 1992
"A Spring Fling II" - April 1990
"A Spring Fling" - April 1988
Nancy Clark & Lori Day, Chairs
2015 Guild Luncheon
Pearls of the Jersey Shore 30th Anniversary Celebration
Saturday, April 11, 2015

The 2015 Challenge Quilt winners and participants are as follows:
1st Place - Gloria Squicciari - Sea Life
2nd Place - Paula Patri - Sunbonnet Sue & Sam at Black Tie Boogie Gala
3rd Place - Pat McCullough - Things to Enjoy at the Jersey Shore
Pamela Gallamore - Pearls Honey
Dona Spencer - Candles
Barbara Bendinsky - Spider Web
JoAnn McCoy - North Pole
Jane Schoonfield - Log Cabin Block w/ Beachplum Pins
Debbie Perks - Mickey Hot Air Baloon
Laurie Schnitzer - Dresden Flowers, Mini Quilts Clothesline & Guild Founder, Minabess Randolph Picture
Jackie Pearce - Sailboat
Connie Safran - Pirate Octopus

Bikes & CocaCola- Everything Goes Better With COKE !
Placemat